On Sunday, i drove the longest i have driven over to my best friend, Hannah's house. Our lovely friend,
Katie
, came too and we headed out to the castle grounds near Hannah's house. It was very windy and then started to rain but an adventure is an adventure right? I think the hour drive over to Hannah's house counts as an adventure too as i was scared stiff the whole time!
I have started to spy blossom blooming and buds appearing on the tree's in the woods so we are very excited for spring to arrive as we have lots of adventures planned (where we don't have to bundle up in coats, hats, gloves, scarfs and extra socks and vests!!).
"let's have an adventure" is a bi-monthly link up posted on the 13th and 26th of each month. You can share old or new adventure posts with us. We would love to have you join us and help us create this wonderful community of fellow adventurer's!!!!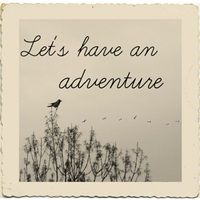 I would love to share with you our co-host for this month. The wonderful Charlotte from
Winegums and Watermelons
is sharing an adventure with us over on her blog too! You can visit her blog via her lovely badge.