I wrote last week about how we discovered this "magic wood" right by Elle's school. We have been visiting it most days after picking Elle up from school. Elle has started a nature journal and asked me to get her some new pencils and bring it with me so she could do her drawings and stick in her collections from the woods.
Even though it is just a wood, it seems like it is just ours. We haven't seen anyone else in there and when the three of us are sitting in there, it feels like we are millions of miles away from any body else. The girls are getting to know it and Mia likes to watch the stream, whilst Elle likes to walk along the fallen trees. I can see Mia becoming just like her sister. Yesterday, she asked me to make her a fishing rod so she could fish in the stream. Next time we go, i shall remember string so i can set one up for her and then when it is warmer, they can paddle in the stream with their nets, looking for minnows.
We are excited to see how the wood changes over the next few months now that spring is coming. We cannot wait for it to turn green and lucious and i am looking forward to watching the changes with the girls and talking about all the new transformations the wood is going through.
"let's have an adventure" is a bi-monthly link up posted on the 13th and 26th of each month. You can share old or new adventure posts with us. We would love to have you join us and help us create this wonderful community of fellow adventurer's!!!!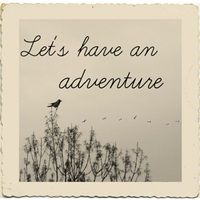 I would love to introduce our co-host for this month. Today we have the lovely Aby from
You baby me mummy
. She is sharing a post over on her blog so please go and have a little look too :)